Backyard Hitting Lessons - Hips Lead the Hands
Feedback
You're well into the lessons now and I hope you'll take a minute to email me at don@qcbaseball.com and provide your comments, suggestions, feedback, or testomial. I also hope you'll sign-up for the QCBaseball Blog if you haven't done so already (right side of page). Finally I would appreciate it you'd spread the word about these free lessons and other QCBaseball content by sending the link to your league administrators and coaches. Thank you in advance for your feedback!
Introduction
Now that we know how to start our swing by dropping our front heel and turning our back knee, we're ready to continue our swing. The first thing we're going to focus on is good hip rotation. The majority of your power is going to come from the lower half. If you drop your heel and turn the back knee and then leave the rest of your swing up to your arms, you'll never be able to drive the ball well. The hip turn must be a powerful and compete motion.
Activity
Hip Rotation - Checkpoint
It can be easier to get full hip rotation if you stride with your front foot slightly open
There will be weight transfered
Try to rotate against a stiff front leg. Dipping the front leg will rob you of some power and drop your head.
The back heel should be pointed up. Make sure you don't leave the back heel on the ground or you will not have full hip rotation.
Next: Arms and Hands
---
© Copyright 2000-2014. QCBaseball.com. All rights reserved.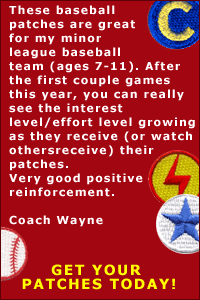 Most Recent Blog Posts
Baseball Instruction(March 7 2014)
Free Tee Ball / Coach Pitch Manual(March 1 2014)