Backyard Hitting Lessons - Safety and Equipment
The backyard hitting lessons are designed so you can perform the lessons at home, as long as you have a safe place to swing the bat. If you don't have a safe place to swing the bat then you'll need to go somewhere to work on the lessons.
In the lessons I use a hitting tee and whiffle balls for many of the drills and for working on your swing. Whiffle balls can still cause damage if hit in the house or into a window, so make sure your parents have helped you setup a safe area to swing the bat and hit the whiffle balls. Hanging a blanket over a garage door or a rope can provide a great hitting screen for whiffle balls. If you're going to be hitting into a wall, then a number of rolled up socks can replace the whiffle balls and won't damage the wall. If you don't have a good area inside for anything other than swinging, that's fine.
Key Point:
Most everything in the lessons can be performed and practiced dry, meaning you'll just be swinging the bat and not hitting a ball. For the small whiffle balls you'll need a large area outside for batting practice with those.
You can spend a lot of money on a batting tee, but the two in the image below retail online for $19.99 and $29.99. The advantage of the tee on the right is that the tee can be moved over the plate without moving the plate. Other than that either tee will work fine. If you have different batting practice equipment you don't necessarily have to go out and purchase a tee. The main reason the lessons are using a tee is so the player can practice hitting a stationary object so they can focus on building their swing. If you have another way for them to hit a stationary ball, then that will work as well.
Next: Goals and Discipline
---
© Copyright 2000-2014. QCBaseball.com. All rights reserved.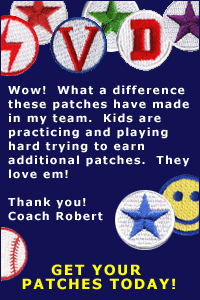 Most Recent Blog Posts
Baseball Instruction(March 9 2014)
Baseball Instruction(March 7 2014)
Free Tee Ball / Coach Pitch Manual(March 1 2014)