Book Excerpt
Collective Coaching Wisdom for Youth Baseball
Ideas and Inspiration from America's Community Coaches to You
by David A. Ham and Janice B. Sibley
1. Coaches' Tips & Advice
This section contains coaches' tips and advice on scores of topics
- everything from holding pre-season parent meetings, to developing practice routines,to setting fair and appropriate game line-ups, to dealing with umpires, to tracking pitch counts and maximizing player safety, to motivating and rewarding players
- and on and on. We organized this wealth of information into five sections:
Organizing Your Team
Conducting Practice
Coaching During Games
Making It Fun
Advice from the Experts
You can quickly browse through each section and pick up the main ideas by reading the statements next to block bullets

on each page. If you prefer more detail, read the information in paragraphs underneath the block bullets.
Whether you're a rookie coach or a seasoned veteran, we bet you'll find loads of new ideas for promoting excellence, fun, success, sportsmanship, pride, and teamwork while teaching kids baseball!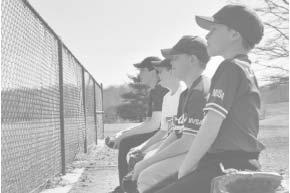 Organizing Your Team

Learning to Coach Baseball


Communicating With Parents


Recruiting Parent Support


Checklist for Organizing Your Team
One of the most important activities you will perform as a coach during any baseball season is to organize the basic elements of your team. Basic elements include items like learning your league's rules, developing a clear coaching philosophy that you can demonstrate at practices and games, creating a written plan for practices, and determining where you will need assistance from parent volunteers - then communicating all that information to your team's players and their parents. Our hometown hero coaches offer some valuable tips for organizing your team successfully.
Learning to Coach Baseball
Everybody is a rookie coach at some point. We asked our hometown heroes to give us their practical advice on learning to coach baseball.

Read,observe,and search the Internet for good coaching tips.
Many of the coaches recommend learning resources such as reading coaching books, observing games, and searching the Internet for youth baseball coaching tips.
Lloyd Rue suggests that new coaches read as much as they can and really understand the general game rules and the specific rules within their own league. Lloyd says the Internet is a great resource. New coaches should search for "coaching" and "youth baseball" and look at some of the many coaching web sites for drills and tips. Some of Dennis Dunn's best learning experiences have come from the numerous baseball schools, clinics and camps that his son has attended over the years. Dennis suggests sitting in on a camp or clinic and taking notes while watching the instructors teach.
Dennis has also learned a lot from watching as much baseball as he can. He watches the pros and colleges, and attends as many youth baseball games as possible. Then he observes the coaches and players to see how they handle different situations. He is also constantly reading and searching for new books and tapes about coaching, always searching for one more tip that can help him improve as a coach.

Tap into the training resources offered through your league.
Phil Swan believes that uniformity when training coaches within a league leads to more successful leagues. Everybody hears similar messages and learns similar skills. Phil and another coach within his league help with coach training by using one practice early in the season to conduct a clinic where the players are the instructors. Phil says ... "
Why not ... the players usually know the fundamentals better than any parent coaches out there. We use 10-to 12-year-old players from our majors and our upper levels and we have them come out and be our demonstrators and teachers. We conduct a 90-minute practice as a clinic."
Ryan Callaham encourages any coach, whether they're just starting out or they've been coaching for awhile, to get involved with their league, not just be a coach. Ryan believes that getting involved in your league will allow you to gain insight into what's going on, how to approach issues, and why things are done a certain way.
"It has made a world of difference to me ... I've seen why things are done the way they are ... I also like to think on some form or level that I have helped shape where we're going as a league."
---
© Copyright 2000-2013. QCBaseball.com. All rights reserved.