Free Baseball Coaching Manual
Coaching Tee Ball and Coach Pitch
Making it Fun for You and the Kids
Description: This manual attempts to present a quick overview of coaching the tee ball and coach pitch levels, with the overriding goal that the experience not only be positive for your players, but for yourself as well. If you are coaching at this level, even if you have coached it before, I believe this manual will provide you with some solid information on preparing yourself to have a great season. It's a free 86 page manual provided by QCBaseball and I hope you not only download it, but let your league know that it's available to them as well. I'd love to see this manual provided to all tee ball and coach pitch coaches and I hope you'll help me accomplish this by letting your league and other coaches know about it.
Download Tee Ball/Coach Pitch Manual
Coaching Tee Ball/Coach Pitch Manual Cover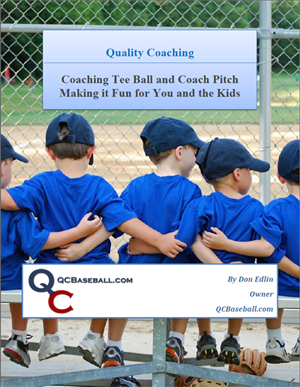 ---
© Copyright 2000-2014. QCBaseball.com. All rights reserved.
Most Recent Blog Posts
New Website Preview(February 14 2015)
Little Things That Can Make a Big Difference in the Final Score(June 10 2014)