Playing Second Base - Page 1
No Runners On Base
Since the throw from the second base position is fairly short, you will be able to play fairly deep with no runners on base. Make sure you are not so deep that you have to hurry on a routine ground ball in order to make the out, or you can't get to first on time if the first baseman has to field a bunt.
Runner On First
With a runner on first you will want to take a few steps in toward home plate and a couple of steps toward second base. This will put you in position to cover second on a double play, force out, or steal attempt if you are covering on the play.
Covering Second on a Steal Attempt
Normally the second baseman will cover second on a steal attempt with a right-handed batter at the plate and the shortstop will cover second when a left-handed batter is up. Try to position yourself so you can still cover your area, but not so far away from second that you have to sprint to second to get there ahead of the runner. Once they see a runner stealing, I teach my players to shuffle towards second until the ball has crossed the plate, then to run hard to cover the base. By shuffling the first couple of steps they are still squared up to home and can stop and go quickly to their left if the ball is hit that way. This is something that really needs to be practiced with the catchers throwing down in order for your players to get a good feel for the timing required.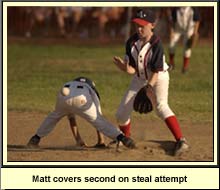 Double Plays
When the ball is hit in your direction and you believe you have a chance to turn a double play, make sure you don't rush. While a double play can be a savior for your pitcher and your team, you must make sure you at least get the lead runner. An error that results in no outs and possibly a runner on third can lead to a big inning for the opposing team. Concentrate on fielding the ball cleanly and making a good throw to the shortstop. If you can do this quickly but under control then you have given your team at least one out and the opportunity to get two.
Ball Hit Directly At You
When the ball is hit at you, you will want field the ball with your right foot slightly behind your left. This will allow you to easily pivot and throw because your hips will already be slightly open.
Once you have fielded the ball cleanly, you have two options for delivering the ball to the shortstop:
With the first option, you will rotate your hips open toward second base as you bring the ball up from your glove. Your right foot will drop back to allow you to rotate farther and get more on the ball. Many players will move both feet at the same time to quickly open up and deliver the ball.
The other option is rotate your hips open toward second, dropping your left knee to the ground in the direction of second and throwing from your knee. Younger players may find that they are more accurate using this method. It will probably take you longer to deliver the ball using this method, but if you can make a more accurate throw to the shortstop then it's worth the extra time.
Coaching Advice
Younger players may have difficulty with both methods, so it may be necessary for them to shuffle their feet in order to make this throw accurately. Make sure that you emphasize the importance of making a good throw and getting the out at second.
Ball Hit To Your Right
On this play you will normally be close enough to underhand the ball to the shortstop. Since you are going to your right, you should naturally be in a position where your right foot is slightly behind your left. This is the position your want to be in. Once you have fielded the ball, you will pivot on your right foot, clear your glove (this will give the shortstop a clear view of the ball), and deliver the ball. When tossing the ball underhanded you want to keep your wrist stiff, your arm motion will provide the power behind the toss. As your arm makes the underhand throwing motion, you will want to follow your throw with your left leg. This will help you deliver an accurate throw to second.
With both of the plays described above, it's important to remember that they should look seamless. Which in these cases means they should be performed from the crouching position. You don't want to catch the ball, stand up, and then rotate and underhand it. Simply field the ball, rotate from that position and deliver the ball.
---
© Copyright 2000-2013. QCBaseball.com. All rights reserved.