Pitch Count - How Many Pitches or Innings Should I Allow My Player to Throw?
This is a common question of a youth coach or parent of a young pitcher. The question is really pretty straight forward, but the answer actually involves many variables that need to be considered. The first thing you must realize is that it's an important issue. We see kids falling and bouncing back up, they rarely seem to pull a muscle or have other aches and pains that we, as adults, have become used to. Kids seem to bounce back quickly from most everything, so does it really matter if their arm is a little sore from pitching? Yes, it does matter! The pitching motion puts a large amount of strain on the throwing arm, particularly on the shoulder and elbow. I personally remember that 3 of the best pitchers from my little league never pitched in high school because they had hurt their arms before they ever reached that level. Now I don't know if it had anything to do with how many pitches they were allowed to throw or not, but the point is that young arms are developing and fragile and need to be taken care of. Kids will do pretty much what they are told, so it's up to parents and coaches to make sure that a pitcher's arm is taken care of.
League Rules on Innings Pitched
It's obvious that youth baseball leagues are concerned with reducing injuries for pitchers by placing a limit on the number of innings that can be pitched in a game and in a week. Many parents and coaches wonder if the league guidelines are enough to provide the proper protection for developing players? In my opinion (and many others) the answer is no.
I'll give you an example from a prior season. I showed up at one of my son's little league playoff games in the 4th inning. The opposing team was in the field and my son's team was up by a run. I watched the opposing pitcher start to tire in the 5th inning and was surprised when he trotted back out there in the 6th. He really struggled that inning but managed to finish the game. His team lost and then I found out that not only did he pitch the 3 innings I saw, but he had pitched the whole game! I looked at the score book and estimated that he had thrown between a 130-150 pitches. He was 9. Now the league rules permitted him to throw 6 innings that week, but didn't have a limit on maximum innings per game. Were the league rules enough to protect this young pitcher? It seems clear that in this case the answer was no.
Pitch Count or Innings Pitched?
Most youth leagues have a limit based on innings, but many experts think the limit should be based on pitch count. In the previous example the number of innings (although high) was a poor measure as compared to pitch count. The American Sports Medicine Institute (ASMI) was commissioned by the USA Baseball Medical & Safety Advisory Committee to study pitch limits in youth baseball. ASMI sent out surveys to 85 baseball experts (including orthopedic surgeons and coaches) and received 28 responses. Although the number of responses wasn't large, it still provided enough data for ASMI to put together some pitch count guidelines. The results of the survey found that the number of pitches thrown is more important than the number of innings thrown and "Number of pitches is more important than number of innings when determining rest requirements".
While this survey provides some good information for coaches to consider, I was left wondering how youth coaches are currently handling their pitchers and if they are provided training opportunities within their leagues. Those questions led to a QCBaseball survey that I posted on the site asking for feedback from youth coaches.
Pitch Count and Other ASMI Recommendations
Position Statement for Youth Baseball Pitchers
Position Statement for Tommy John Injuries in Baseball Pitchers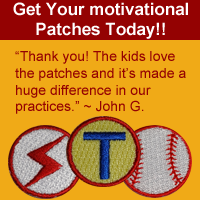 QCBaseball.com is proudly sponsored by

Teamsnap.com - The easiest way to manage your sports team online

Thanks! The patches have been great motivators for my players. I got this order of stars for my "Ironman" players that showed up for all of the games this season.

Thanks again,

- Tony P.