Baseball Drills: Pitching: First Base Pickoffs
Drill:
First Base Pickoffs
Purpose:
Allow pitchers to work on pickoff moves to first and runners to work on reading the pitchers moves and getting a good jump.
Equipment:
Four baseballs, helmets for baserunners.
Setup:
Have four pitchers on the mound, each facing a base. Have a player acting as a first baseman at every base and a runner leading off each base. Each pitcher has a different home plate and first base.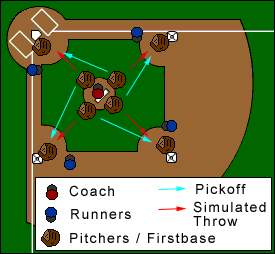 Execution:
Coach stays on the mound in the middle of all the pitchers. He will tell the pitchers to either pickoff the runner or simulate a throw home.

Runners will always be trying to steal the base and get a good jump.

Older players can make the throw home, but the simulated throw home for younger players prevents two balls being thrown to the same base.


---
© Copyright 2000-2014. QCBaseball.com. All rights reserved.
Most Recent Blog Posts
New Website Preview(February 14 2015)
Little Things That Can Make a Big Difference in the Final Score(June 10 2014)