Drill: Sway and Frame - 5 to 1
Purpose:
Improve the catchers ability to determine when to frame a pitch.
Equipment:
Catcher in full gear; 5 baseballs
Setup:
Coach should be from 30 to 50 feet from the catcher depending on the arm strength and accuracy of the coaches arm. Catcher should know the basics of swaying and framing. Instruction for both swaying and framing
Execution:
This drill is a 5 round drill where the coach will throw a pitch. The catcher will sway to the pitch if needed, catch the ball, and frame the pitch if necessary. The coach is the umpire and it's up to him to determine if the catcher made the right decision about whether to frame the pitch or not.

If the coach determines that the catcher made the wrong decision or used poor technique, the drill stops, all balls are returned to the coach and the drill starts over.

First round is 5 pitches with the catcher dropping the ball to the side after catching it and framing it if necessary. The coach should throw the pitches rapidly. This helps the catcher develop a good habit of not framing the pitch for too long. Second round is 4 pitches, Third round - 3 pitches, etc.

The goal for the catcher is to complete the drill without having to start over.
Modification:
Changing the number of rounds will help make this drill work with any age group.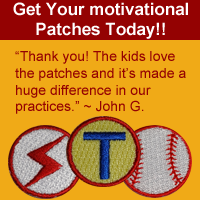 QCBaseball.com is proudly sponsored by

Teamsnap.com - The easiest way to manage your sports team online

Thanks for much for QC baseball! I never played baseball as a child but my kid is totally into it. This web site has been huge in helping me get him going in the right direction. It is also helping me on our church softball league move from a liability to an asset.

- Mark H.