Bunting - Push Bunt
I've ran into some confusion between coaches on what is considered a drag bunt and what is considered a push bunt. For this instruction a drag bunt will be any bunt down either line that is meant to not be bunted past a player. A push bunt is any bunt where you want to push the bunted ball past the pitcher in order to get the ball into an area of the infield where the infielders will not have time to get the ball.
I've included the push bunt on the website but for most youth coaches I would advise you not to spend the time on it. It is a very difficult bunt to get good at and while it can be effective, I think most players will never use it. With that said I've included a video below that does a good job of explaining the push bunt.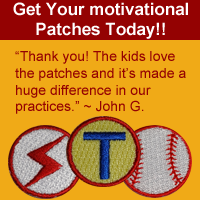 QCBaseball.com is proudly sponsored by

Teamsnap.com - The easiest way to manage your sports team online

Don Just wanted to say Thank you for the Motivational Patches. This was a GREAT Coaching Tool! We just won the City Championship Game. My Boys sure did work hard for those patches and earned the right to be called CITY CHAMPIONS.
Thanks,

- Coach Brian F.