Baseball Drills: Team Baseball Drills : Soft Toss Scrimmage
Drill: Soft Toss Scrimmage
Purpose:
Fun quick paced game that allows players the opportunity to play many different positions.
Equipment:
Game equipment
Setup:
Split your team into 2 squads. One will play offense, one defense, just like a regular game. Since each team will be short of a full defensive team, let the defensive players determine how they will set up their defense. We usually go without a pitcher and catcher. No bunting or stealing allowed.
Execution:
The name of the game is movement. We play 6 outs per half inning.

The coach will soft toss each pitch to the hitter from the side. The hitter must swing at each pitch.

After each hitter, the defense will rotate one position. We rotate around the infield from 1st to 3rd, then to left field and around to right. The right fielder will then move to first.
Note: This is a great game to play early in the season as you get to see kids playing different positions on defense and there is a lot of moving around and action. The kids will love this scrimmage and it's a great time for you to evaluate the kids ability as they move around the field.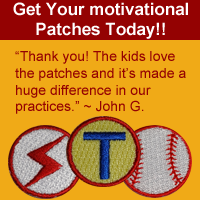 QCBaseball.com is proudly sponsored by

Teamsnap.com - The easiest way to manage your sports team online

Don Just wanted to say Thank you for the Motivational Patches. This was a GREAT Coaching Tool! We just won the City Championship Game. My Boys sure did work hard for those patches and earned the right to be called CITY CHAMPIONS.
Thanks,

- Coach Brian F.